Description
Description of the Milling Machine Safety Guard
Protects the operator from direct contact with the horizontal shaft-spindle and its parts placed in rotation and accessible from the two sides of the machine (the frontal «segregation» of the dangerous parts is excluded), in addition to the projection of shavings and lubricant-coolant. Horizontally attachable to the two sides of the slide. Equipped with axially and radially adjustable shields, shapeable if needed for possible interference with the equipment in use. Equipped with double safety microswitch.
Adjustable angular stirrups, for microswitch box anchorage and support of the horizontal arm - in pressed steel
Safety microswitch main box - 180° rotation - n.2 NC contacts - electrically interlocked
Horizontal shield support arm - in tubular stainless steel
Fixing clamps for the axial and radial adjustment of the shield - in aluminum
Shield in plastic shockproof and oil-resistant material
Interlock Switch Specifications
Contact arrangement: Two safety switches—2 NC contacts per switch
Switching ability: 4 A @ 24 V AC, 4 A @ 120/250 V AC
2 A @ 24 V DC, .4 A @ 120 V DC, .3 A @ 250 V DC
Mechanical life: 1 million switching cycles
Enclosure rating: IP 67
Safety Guard's Technical Specifications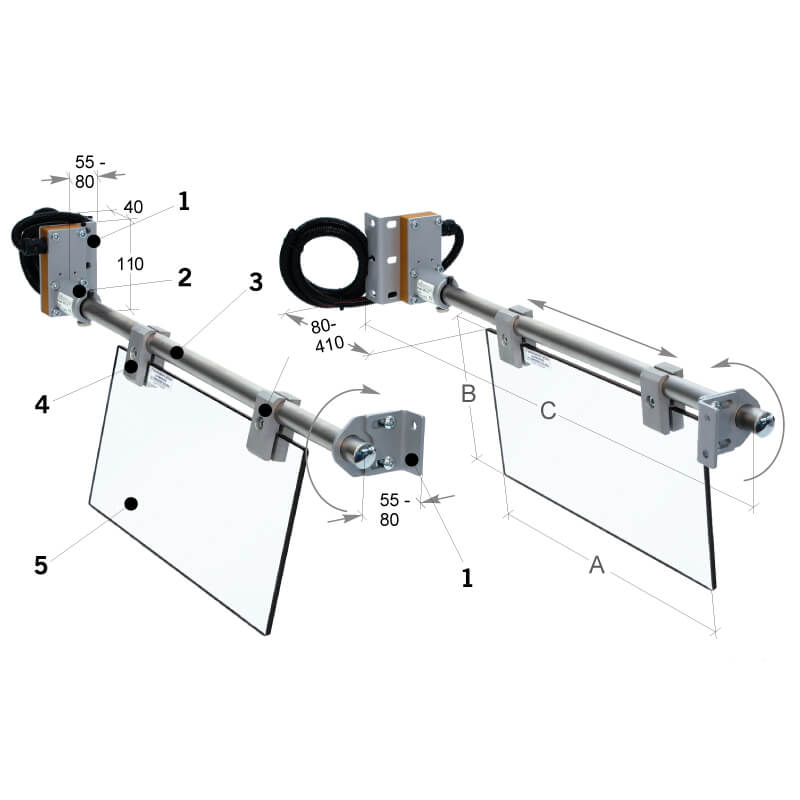 CODE
Name
A
B
C
Spare Shield
MST-FR10/420
Horizontal Slide Mills Dual Safety Guard/420
400 mm
15 3/4"
200 mm
7 7/8"
830 mm
32 43/64"
MST-FR10/420/SS
MST-FR10/430
Horizontal Slide Mills Dual Safety Guard/430
400 mm
15 3/4"
300 mm
11 13/16"
830 mm
32 43/64"
MST-FR10/430/SS
MST-FR10/530
Horizontal Slide Mills Dual Safety Guard/530
500 mm
19 11/16"
300 mm
11 13/16"
930 mm
36 39/64"
MST-FR10/530/SS
Shipping Information
Lead time to ship: 3 to 5 business days.
How Can We Help you Today?
About our technical specifications, optional features, compliance to safety regulations, shipping requirements, suppliers.
We will quickly provide you with a quote and a range of other compatible options as needed.
Tell us a bit about your project and we will ensure to offer you only the best customer service.
We understand that a quick turnaround time is important for you.
Get Information About This Product
Top