Description
Description of the Lathe Chuck Safety Guard
Protects the operator from direct contact with the upper part of the chuck lathe and from lubricant-coolant projection. Frontally and laterally attachable at the base. Equipped with semicircular shield, adjustable until near the machine head. Complete with safety microswitch.
Frontal and lateral anchorage stirrup
Safety microswitch main box - 90°rotation- n.2 NC contacts
Shield connection clamp with support arm - in pressed steel
Shield structure in tubular steel
Thermo-shaped shield - in shockproof and oil-resistant plastic material
Interlock Switch Specifications
Contact arrangement: 2NC
Switching ability: 4A @24V AC
4A @120 DC, .3A @250 V DC
Mechanical life: 1 million switching cycles
Enclosure rating: IP 67
How to Choose the Right Size
In order to choose the correct size for your lathe, you first need to calculate the swing overbed. Please refer to our second image called Legend, and calculate M1 x 2. Refer to this table to choose the correct safety guard width depending on swing overbed.
525 mm to 600 mm (20 43/64" - 23 5/8")MST-TO01/600Lathe Chuck Safety Guard/600235mm (9 1/4")
M1

x 2 (Swing overbed)
Selection
Width Options
SKU Code
Name
Up to 300 mm (11 13/16")
MST-TO 01/300/MEU
Lathe Chuck Safety Guard/300/MEU
170mm (6 11/16")
MST-TO 01/300
Lathe Chuck Safety Guard/300
200mm (7 7/8")
325 mm to 400 mm (12 51/64″ – 15 3/4″)
MST-TO 01/400/MEU
Lathe Chuck Safety Guard/400/MEU
170mm (6 11/16")
MST-TO 01/400
Lathe Chuck Safety Guard/400
235mm (9 1/4")
425 mm to 500 mm (16 47/64" - 19 11/16")
MST-TO 01/500/MEU
Lathe Chuck Safety Guard/500/MEU
170mm (6 11/16")
MST-TO 01/500
Lathe Chuck Safety Guard/500
235mm (9 1/4")
525 mm to 600 mm (20 43/64″ – 23 5/8″)
MST-TO 01/600
Lathe Chuck Safety Guard/600
235mm (9 1/4″)
Safety Guard Technical Specifications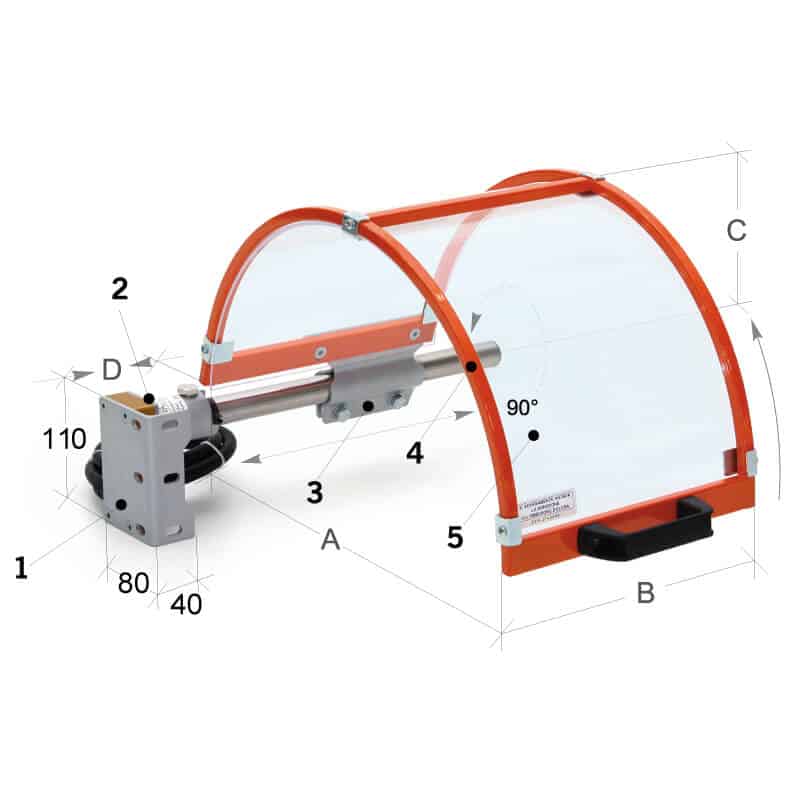 CODE
Name
A
B
C
D
Spare Shield
MST-TO 01/300
Lathe Chuck Safety Guard/300
300 mm
11 13/16"
200 mm
7 7/8"
180 mm
7 3/32"
0-215 mm
0" - 8 15/32"
MST-TO01/300/SS
MST-TO 01/400
Lathe Chuck Safety Guard/400
400 mm
15 3/4"
235 mm
9 1/4"
230 mm
9 1/16"
0-150 mm
0 - 5 29/32"
MST-TO01/400/SS
MST-TO 01/500
Lathe Chuck Safety Guard/500
500 mm
19 11/16"
235 mm
9 1/4"
280 mm
11 1/32"
0-150 mm
0" - 5 29/32"
MST-TO01/500/SS
MST-TO 01/600
Lathe Chuck Safety Guard/600
600 mm
23 5/8"
235 mm
9 1/4"
330 mm
12 63/64"
0-150 mm
0" - 5 29/32"
MST-TO01/600/SS